Voluntary and Civil Activities Coordination Service
Wishing to help out persons in need...
Looking for volunteers...
Wishing to interact with people in the target establishments...
We coordinate tasks from the matchmaking of those who are interested in doing voluntary activities and those who are in need of volunteers to the assistance of activities, at the Shinjuku Voluntary Center (Takadanobaba) and its Volunteer and Community Activities Support Corners in the respective areas (5 areas of Yotsuya, Ushigome, Okubo, Ochiai and Yodobashi).
In addition, we also carry out tasks including dissemination regarding civil activities, planning of various courses, and promotion of welfare education in community.
Please feel free to consult with us, for a starter, on voluntary and civil activities.
Shinjuku Voluntary Center (Takadanobaba)
Open: Monday through Saturday
Hours: 8:30 to 17:00 (Until 19:00 on Tuesdays)
The Center's Volunteer and Community Activities Support Corners
Open: Monday through Friday
Hours: 10:00 to 17:00 (Lunchtime: 12:00 to 13:00)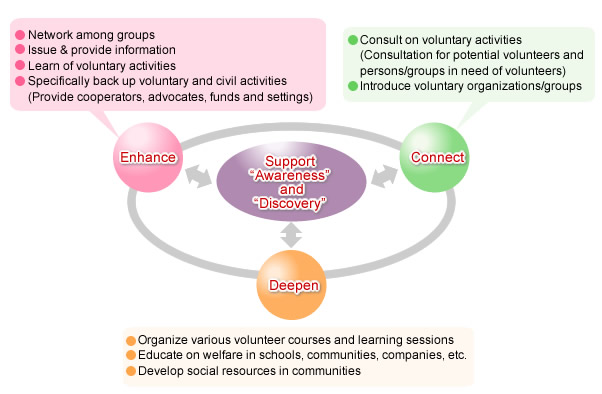 Contact for Inquiries
Community Activities Support Division
(Shinjuku Voluntary Action Center)
Tel: 03-5273-9191
FAX: 03-5273-3082
E-mail:
Consultation in Japanese
Shinjuku Social Welfare Conference East Branch Office
Tel: 03-3359-0051
FAX: 03-3359-0012
Consultation in Japanese