Living Support Service
We support those who need assistance in everyday life to allow them to have peace of mind, with the help of you in the communities.
The assistance provided through this Service is of the nature in which residents may have a "mutual-support" feeling of empathy with each other, such as in daily shopping, cleaning of house, partnering in hobby or recreational activities, and accompanying for a walk.
For reference sake, let us indicate that as the situation and details of an activity demand we would provide coordination differently as in paid or unpaid voluntary activities.
Any person irrespective of age and/or existence or nonexistence of disability is eligible for the Service and is encouraged to consult with us.
Please feel free to contact us:
if you can cooperate in "mutual-support" in the communities, and/or
if you wish to receive assistance in your daily life.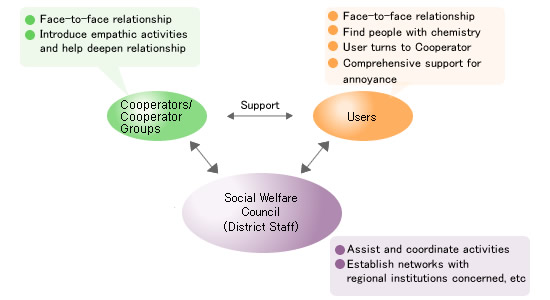 Contact for Inquiries
Community Activities Support Division
(Shinjuku Voluntary Action Center)
Tel: 03-5273-9191
FAX: 03-5273-3082
E-mail:
Consultation in Japanese
Shinjuku Social Welfare Conference East Branch Office
Tel: 03-3359-0051
FAX: 03-3359-0012
Consultation in Japanese